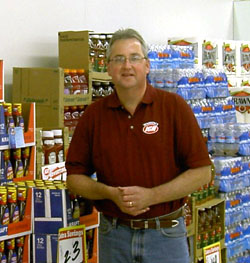 Plaza IGA Manager:
Mike Morrison
About Us
Warren's Plaza IGA
Founded in 1954 by Charles N. Warren, Warren's Plaza IGA was originally located in an alley off of Warren Street in Marietta, Ohio. The company originated out of the Whipple, Ohio butcher shop business of Charles Warren's father, Harry, and his two uncles.

In 1976, Warren's Plaza IGA moved to an old Kroger location, adjacent to Marietta College. Then, in 1984, the store moved to its current location of 402 Muskingum Drive.

The 16,000 square foot store is a full-service conventional supermarket that includes in-store bakery, deli, and catering services. Custom decorated birthday, special occasion and wedding cakes are a specialty.